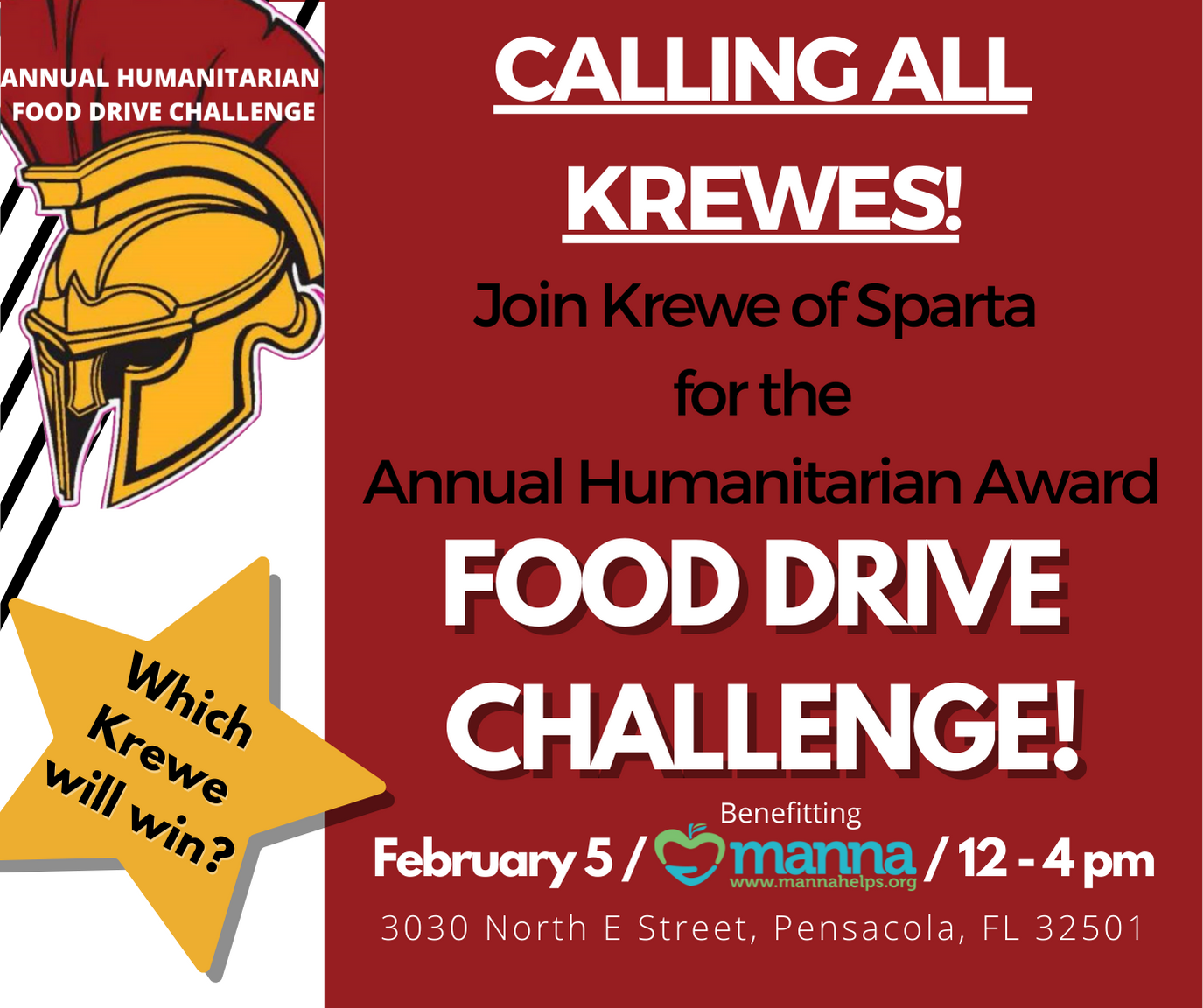 ALL KREWES LARGE AND SMALL, start gathering nonperishable food items NOW and deliver to Manna any time between now and the weigh-in party! Join the Krewe of Sparta Annual Humanitarian Award Food Drive Weigh-In Party at Manna on Sunday, February 5, from 12-4 pm.
Large and Small krewe division winners will be announced at the Pensacola Mardi Gras Fat Tuesday Priscus celebration on Mardi Gras night!

Collect Food for Manna and help make a BIG difference in our community!

Every pound of food = 1 point!

DOUBLE POINT ITEMS:
* Canned Fruit in 100% Juice (or in water; NO syrups) (20 oz. or less)
* Canned Vegetables (16 oz. or less) (mixed vegetables preferred but not required)
* Oatmeal (boxes of individual packets) (low sugar and protein varieties preferred but not required)

Details/Rules:
* NO: flour, sugar, bulk dry goods (e.g. 50 lb. bags of rice), large cans (e.g. #10 cans), damaged/expired food (determined at Manna's discretion)

* Limit two cases of water per Krewe

* Cash gifts: $1000 max (points for cash is calculated based on USDA's value of a pound of donated product)

* One Krewe rep can be present at scales during weigh-in.
Not in a Krewe? That's ok! You can donate too!
Simply bring your donation to Manna anytime between now and the Weigh-In Party on February 5, from 12-4pm. Let us know which Krewe is your favorite, and we'll credit your donation to their total.